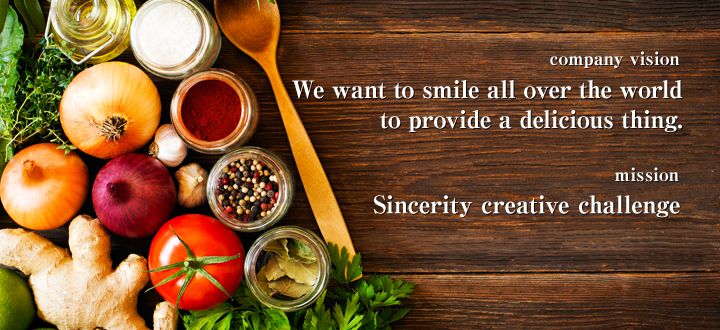 The "gourmet Story" is "taste of the story".
The material that was to cherish the season and seasonal -
Commitment to spare no time and effort -
Passion for Manufacturing –
Our attitude that to cherish until the merchandise is completed "gourmet story" means.
story from before your much merchandise arrives at hand of us taste that spun out has already begun.
The source to overflowing dream can be more delicious meal complemented every material we want to provide.
Is passed through the food, life scene around the world is overflowing with a smile, and aims to send colorful day.
Please look forward to the future of gourmet story.



Company Name
gourmet Story
Address
80,Awaraikenoomote,Kiyosu,Aichi,452-0901,Japan
Telephone number
+081-052-409-2061 (toll-free + 081-0800-888-8639)
FAX number
+081-052-409-4318
E-mail address
Established
March 10, 2009
Capital
10,000,000 yen
Representative Director
Suzuki Nobuaki
Business
・Cooking sauces, dressings, soups, food manufacturing wholesale and processing cooking goods
・Including fruits and vegetables and meat, handling of halal food
・Restaurant, luxury super, in-flight meal, development supply of RMR merchandise
・Domestic and international restaurant management and consulting
・Import and export various trade
Trading Bank of
Tokyo-Mitsubishi UFJ Bank Conclusion Shinkawa Branch
Nagoya Bank Biwajima communication branch

80, Awaraikenoomote, Kiyosu, Aichi, 452-0901, Japan
Telephone number + 081-052-409-2061
Toll-free + 081-0800-888-8639
FAX number + 081-052-409-4318
【Access】
5 minute walk to the northeast the Tōkai Transport Service Jōhoku Line "Owarihoshinomiya" station.
Sum Western tassel "Nobunaga-tei" right next.